EXCLUSIVE - THE NEW GENERATION OF SPIRAL STAIRCASE
We have developed a spiral staircase in an elegant form with many thoughtful details that you can influence throughout the whole process. We have put a lot of work into the different materials to meet the high requirements of architects and interior designers. Inspired by a nordic architecture and interior trends we have pushed the boundaries for the possibilities with a spiral staircase. Further, with more than 999 possibilities you can change the design with different models of steps and railings, materials, and coloring. Just the way you want it.
A WHOLE NEW WAY OF SEEING A SPIRAL STAIRCASE
Our exclusive spiral staircase is designed by your requests. You can reflect an interior style, match with the surrounding materials, and add luxury and elegance while you keep the transparency and light in the surrounding. To maximize the possibilities we have created the new generation of spiral staircases where you are involved in the whole process.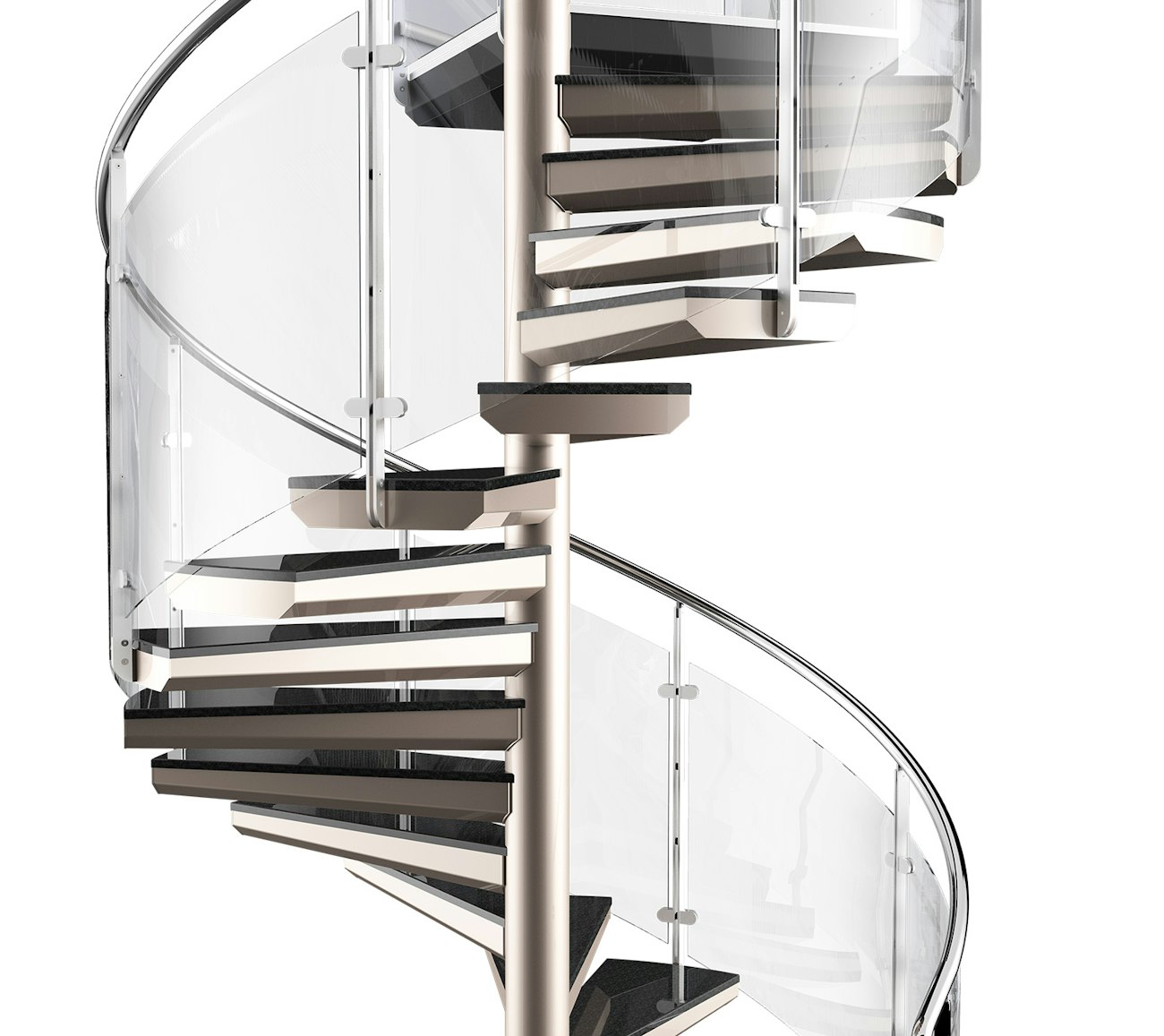 Endless of possibilities and combinations
Step surfaces
The step is one of the parts in a spiral staircase that is most visible. It is also the part of the staircase that is worn most. Therefore, the step needs to be both neat and durable. There are numerous of different materials to choose between. Each with advantages and disadvantages. Start by thinking about how you want it to look, how thick it should be and what type of wear it will be exposed to. Choose between tree, stone, carpet, or glass surface.
Railing models
Material and design for the railing models is an important part of the staircase as a whole. Most likely it is the railings that captures the eye once you look at the staircase. The railing models offers different characteristics.
Handrails
The handrail in the staircase is in steel or wood. You can also cloth a handrail in leather. The steel handrail gives a stable and robust feeling while the wood adds a warmer and softer impression. A handrail cloth in leather is, except for a nice feeling to touch, a material that ages beautifully and gets a good looking patina.
Poles
Match the poles with the choice of railing model. You choose between soft and compliant or more straight and sharp lines that enhance the design and characteristics of the railing model.
Steel
Steel is an obvious material for all our constructions. The steel gives our staircases the superior properties in terms of load capacity and fire resistance compared to a staircase construction in wood. Eurostairs staircases are made of high strengthened steel which has a higher yield point than traditional steel. In this way, the staircases can carry more loading with less material which in turn results in lower energy consumption and are more environmentally friendly.
Tile or stone surfaces
Granite, sandstone, or limestone is some of the stone types that are suitable for step surfaces. There are both natural stone and composite. Natural stone looks very elegant, is durable and easy to clean. Dark stone arts like black granite is also less sensible for stains. A bright stone is more porous and more easily imbibe, for example, fluids. Composite is one of the most durable and resistant materials that exist. Compared to the natural stone the composite does not have any pores where bacterias can penetrate. It is very easy to clean and you can get it in different colors.
Leather
Leather gives our staircases a unique design. With the right care and maintenance of the leather ages with a beautiful patina. By using leather for the handrailing it gives a beautiful and genuine impression. With different techniques, there are many different types of leather that differs in thickness, pliability, softness, and structure. Each type of leather has its unique mix of texture that makes the leather smooth.
Glass
Glass is a very good and useful material for those who want to create unique and modern surroundings. The only limitation for the use of glass is the imagination. Glass gives our staircases transparency and makes it possible for us to make the staircase become a more central part of the surrounding, as a furniture.
Wood
You can use wood in both steps, handrailings and as filling in railings. The woods have different qualities depending on the density (the weight in relation to its volume) and how they are treated. The most common wood we use is oak that is harder than for example, spruce and pine. It is a good material for surfaces that is worn a lot. The swedish pine is slightly harder than spruce but not as hard as the oak and it has a light ground color. Even alder tree is a swedish wood that becomes more popular just like ash, a wood that has clear growth rings which gives it a special character.
Color can create miracles
What is most important when coloring? There are a few things to think about. The color reproduction becomes different depending on the light sources. Are they natural or artificial? Is it light bulbs or LEDs? Is it warm or cold? It there any windows which lets light in? To fully discover the color you have to work with the light. If you would turn off all the lights and only have daylight in a room, some of the colors do not become as eye-catching and some of them can be sticky. If you add lighting with low energy lights everything gets greener since the light does not reproduce the red scale. To create striking colors you can use RGB-light. Dare to elaborate with shades when you place your staircase, different shades of the same color create harmony and an overall feeling.